Blown insulation is an affordable solution for homeowners seeking superior insulation. Like spray foam insulation, blown insulation fills every nook and cranny for total insulation, but blown insulation is usually around half the cost of spray foam! If you're ready to reduce your heating costs with blown in insulation, call A+ Insulation today. We're certified blow in blanket system installers to bring you the absolute best in blown insulation!
Blow in blanket insulation from A+ Insulation is ideal for just about any residential or commercial application. Consider it for:
Sidewalls
Metal framing
Under floors
Ceilings
Acoustical insulation
Call A+ Insulation for exceptional workmanship, affordable pricing, and all-around customer satisfaction. We know you'll be "blown" away by the quality of your blown insulation, so why wait? Act now!
The BIBS Advantage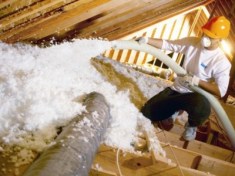 The blow in blanket system (BIBS) is an innovative home insulation process that enables installers to effectively insulate nearly any space. While other types of insulation can be ineffective around pipes, wiring, and in small spaces, blown insulation completely fills the space, so there are no gaps or holes! This complete blanket of insulation provides superior thermal efficiency and even dampens sound. With BIBS insulation from A+ Insulation, your home will retain more of its warm air in winter and cool air in summer, reducing your energy usage to save you money and benefit the environment!
How It Works
With BIBS, professional insulation contractors blow loose fiberglass insulation into your walls behind specially designed netting. This loose fill insulation will never settle, meaning it will maintain its high R-value over its entire lifetime. Moreover, the blown fiberglass insulation used as part of the blow in blanket system is fire-resistant, moisture-resistant, and will not attract insects. With all of these benefits, there is no reason to put off having blown in insulation installed in your house ASAP.
Qualified Blown Insulation Contractors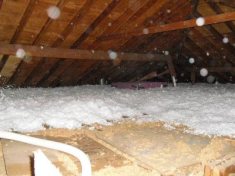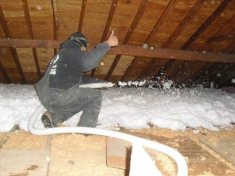 Don't forget, A+ Insulation is a certified BIBS installer, so we have the skills and knowledge to correctly install this unique blown insulation. And, although some other types of insulation take time to install and can create something of a mess, blown in insulation installation is a quick, easy, and clean process. Our professional insulation installers will put in your insulation fast and effectively, without making a disaster in your home!
Contact us by phone or e-mail at your earliest convenience to learn more!